Welcome to our convenience store! We sell these products for your convenience, not to try and make money on products. Please browse around the catalog and let us know if you have any questions or need assistance.
The Tukios store is our online store where you can find various items to help in producing your Tukios videos. None of these items are required to make Tukios videos, but they can help to make the product the best it can be or add personalization to your funeral home.
Feel free to take a look at the store and see what's available. https://store.tukios.com/
It looks something like this.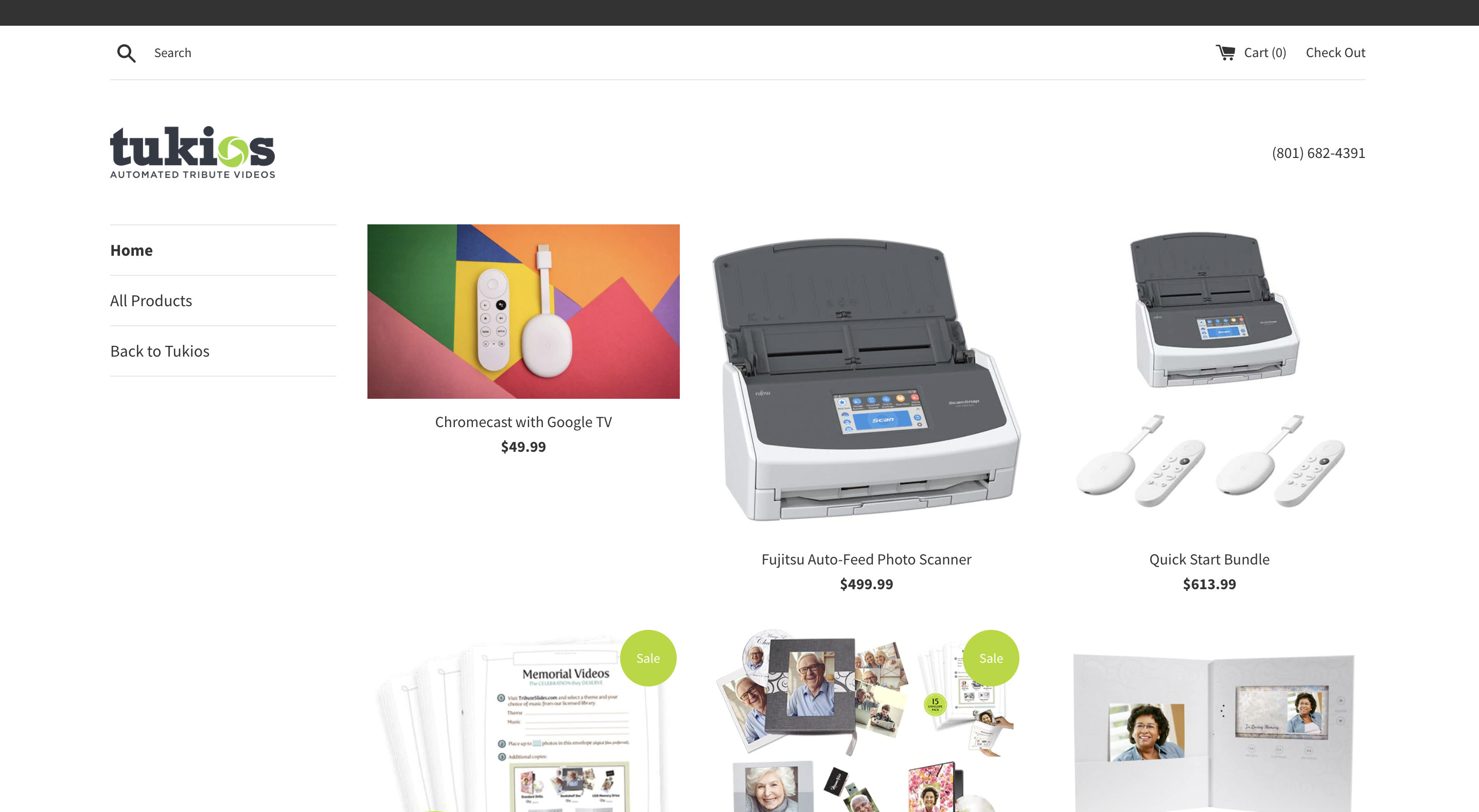 You can find the following items on the Tukios store.
Chromecast with Google TV for Direct Delivery
The chromecast is the device used with our direct delivery system. With it, you can easily send your videos to the device and play them on your TV with the press of a button. There is a short setup process before that, but it's pretty painless.
Fujitsu Auto-Feed Photo Scanner
Many families have physical photos of their loved ones, and those photos need some way to get into the video. This scanner can take a stack of photos and scan them all onto your computer. From there, you can upload them into Tukios. Quick and easy!
Quick Start Bundle
This includes 1 Fujitsu ScanSnap High-Speed Photo Scanner and 2 Chromecasts.
15 FREE Photo Envelopes (Funeral Homes Only)
The envelopes can be sent to families in order to get photos from the families for their tribute videos. They can be customized with your funeral home's brand and requirements, when it comes to how many photos may be accepted and the date in which they need to be returned.
Welcome Kit (Free Samples-for Funeral Homes only)
These welcome kits have the following FREE samples: 1 Bookshelf Box, 1 Standard DVD, 1 Memory Drive, 1 Photobook, plus 15 photo envelopes, sample rack cards, and Tukios SWAG! These samples allow families to see the products in your arrangement rooms.
Bulk Digital Video Books
If you want to purchase a bulk amount of blank Video Books, this is the option for you! All you will have to do is place the video on it and add a cover photo in.
Avery DVD Labels
DVDs make very nice keepsake items, but it makes a huge difference in what kind of picture is on the DVD. These labels are meant to fit with the DVD label files that can be downloaded from any completed video. These come in packs of 40.
DVD-R
If you plan on putting the tribute video onto a DVD, you'll need a DVD. There are different types of DVDs, and we've found that the -R type works the best. These come in stacks of 100.
Black & Clear DVD Cases
DVDs need something in which to be stored. These cases protect the DVDs you make and also make it easier to store the DVDs. You can also print out a jacket that fits around the DVD case behind the clear plastic outside to make it an even more memorable item! These come in packs of 25 and come in either black or clear.
Celebrate Life Display
This little display includes pamphlets that the family can take with them and read about what they can get with their tribute video. It helps advertise the videos or have an easy way for the family to become informed about what is available to them.
Brochure Refill
Instead of buying another celebrate life display when you run out of brochures, you can buy this bundle of 100 brochures to refill the Celebrate Life display. Now, even more families can take a brochure!
If you have any other questions, please feel free to email or call us.
support@tukios.com | 801.682.4391