Some funeral homes would like a Theme Selection Guide to show to their families. You can download the PDF here.
If you are searching for a specific theme or want to show off the wide range of themes that we offer, you can find all of our Themes and Music on our white-label site Tributeslides.com.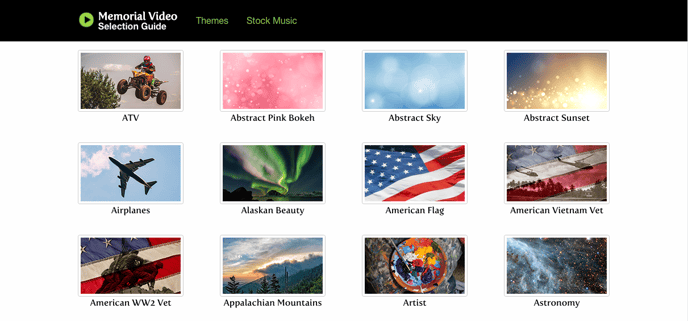 This site can be shared with the family and is in no way tied to Tukios.com. Each theme has a sample of the slides show (including the intro, outro, and some theme slides), the look of the printed DVD, Bookshelf Box, Softcover Photo Book, Video Book, and Memory Drive. This page also includes the song played on the sample video.
If you are looking to have a printed copy of the themes we provide, click this handy link HERE, and you can print a copy of our Theme Selection Guide. This guide is updated quarterly to include every new theme option we have available.
If you have any other questions, please feel free to email or call us.
support@tukios.com | 801.682.4391