You can upload music into the Tukios software by clicking the "Upload from Computer" button on the Music Page.
BEFORE UPLOADING MUSIC, please be sure that you are aware of the music licensing laws surrounding mainstream music on videos. We have a short briefing here - https://help.tukios.com/help/how-can-i-use-music-legally When uploading music, you must have obtained all appropriate licenses for any music you upload to Tukios. You will defend, indemnify and hold harmless Tukios, Inc. and all of their respective owners, employees, agents, successors, and assigns from any claims of third parties arising from your breach of this representation.
Upload Music to Your Tribute Video from Tukios on Vimeo.
Here is a quick tutorial on how to upload music from iTunes.
-Note, this is the same process as uploading music from other sources.
1 - Open the "+Add Music" button of the Video Creator.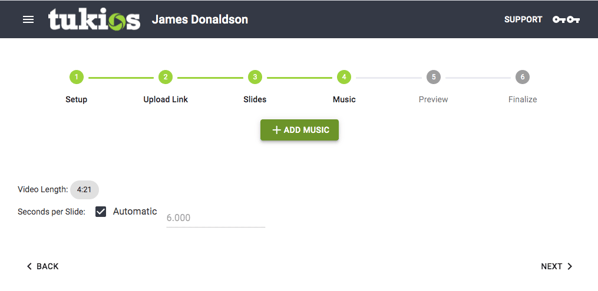 2 - Then click "Upload" then "Agree and Accept" to the Upload Music agreement.

3 - Then click "Upload from Computer."

4 - Go to Libraries and click the Music Library icon.
When in the Music folder, there will be several folders or music files.
-If you downloaded the song through iTunes, follow the directions below.
Note: If you are uploading Music from a CD, you will need to rip it or import it first (depending on the program that you use).
If you rip it through Windows Media Player, it should show up in this folder as "Untitled Artist." Within that folder is the "Unknown Album" folder and within that folder are all the songs from the CD.
If you imported it through iTunes, follow the directions below.
5 - Click on the folder you wish to open, e.g., iTunes
6 - Once in the iTunes folder, open the iTunes Media folder
7 - Once in the iTunes Media folder, open the Music folder
8 - Within this folder, you will see all of the artists whose music resides in your iTunes library. Find the Artist you wish to add and open that folder.
9 - Within that folder, there will be Albums. Open the Album folder.
10 - Inside the Album folder resides the songs. Click the song(s) you wish to add to the video and click Open.
If that way does not seem to work, you can also try the following:
In iTunes, when seeing My Music, you can drag the file from iTunes onto your Desktop by Left Clicking on the file and then moving it to your Desktop. Once the file has been moved, you can go back to the website, click Upload Music, and then find it in the Desktop folder.
If you have any other questions, please feel free to email or call us
support@tukios.com | 801.682.4391