In this article, learn the steps on what you need to do to make sure you get paid for the orders you fulfill.
1. Login to your condolences portal by going to condolences.com.
2. Once you have logged in, go to the left hand side and click on the "orders" tab.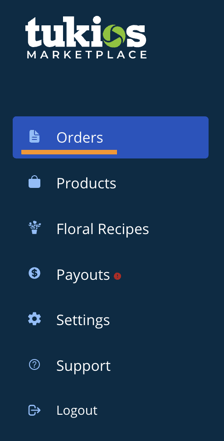 3. Once you are in your orders, you can find the delivery button on the far right of the order information.
**Make sure that you are checking your orders as delivered after you have actually delivered them. Once you check this button it sends a delivery confirmation to the customer.

Whether you choose to be paid by check or direct deposit through Stripe will vary on the actual time frame of you being paid. If you would like more information on billing, please visit this article.
If you have any other questions, please feel free to email or call us.
support@tukios.com | 801.682.4391