There are two ways that you can enroll a family to receive Aftercare products.
Once you log into the program, you will be at your dashboard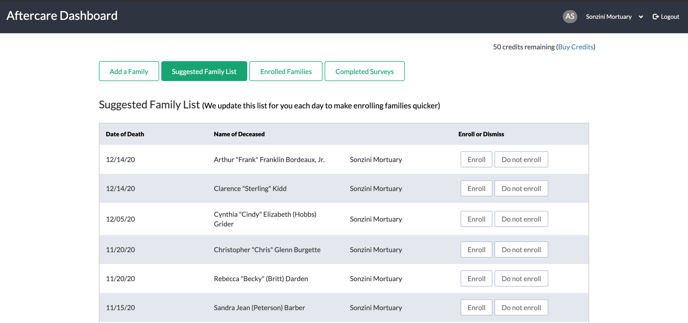 You can either "Add a Family" manually, or you can enroll a "Suggested Family."
Add a Family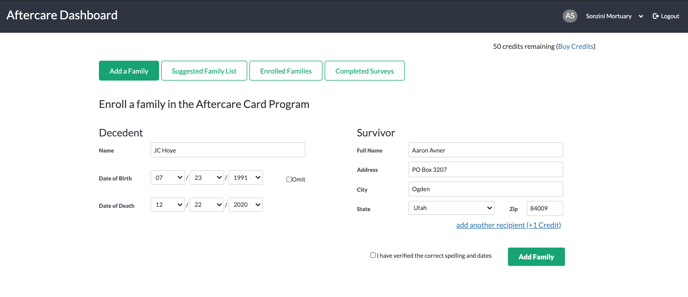 You can add a family to be enrolled manually. Click the Add a Family button, add the Name and Dates of the deceased, then add the Name and Address. of the Family you wish to enroll. Once you have double-checked the spellings, click the Add Family button.
Suggested Family

To reduce the amount of work that you do, we pull over family information for you every day. Click the Suggested Family button once you log into the program. You will have a list of individuals that you have served. Click on the Enroll button on the right-hand side and type in the Names and Addresses.
Enroll More than One Family
You can also enroll more than one family per individual. It will still be $25 per enrollment, but you can serve as many of the survivors as you want.
Click the option that says, "add another recipient." Add their information in the boxes provided.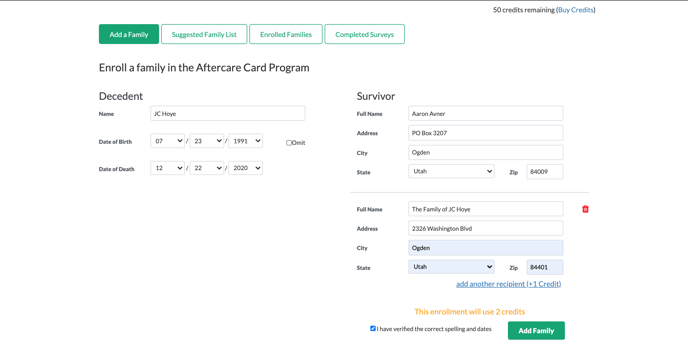 If you have any other questions, please feel free to email or call us
support@tukios.com | 801.682.4391